I got a tweet from my friend Andres DuBouchet. He has one of the great comedy brains of anyone in the world. It exists in a jar. He writes for Conan and frequently appears on the show.
He is also a lifelong Mets fan and is no doubt enjoying this September.
Here is the Tweet he sent me.
Hey @sullybaseball have you ever written an article in which you assemble a team of the best fictional baseball players ever?

— Andrés du Bouchet (@dubouchet) September 11, 2015
//platform.twitter.com/widgets.js
Knowing my sweet spot of making lists, talking baseball and thinking about the movies, I could not resist.
So here is my 25 player roster of movie ballplayers.
9 starters, including a designated hitter, 5 starting pitchers, 5 relievers and 6 role players coming off the bench make up the roster.
Also a manager, coaches, a super fan. a scout and a GM.
There were some tough calls. A few catchers did not make the cut. And I also made sure that each actor could only play one member of the team. That led to a Kevin Costner decision that frankly was kind of easy to make. Two other actors surprisingly could have filled 2 spots, more on them later.
Some truly tough calls on the manager made for a weighing some pros and cons.
And the characters had to be totally fictitious. Yeah, I know Shoeless Joe Jackson and Moonlight Graham aren't ghosts, but they are based on real people.
As much as I love Moneyball and The Rookie and Eight Men Out, they will not be represented here.
Neither will Ed, the film about a third base playing chimp and Matt LeBlanc. Why? Because it sucks.
So here is my 25 player roster (note I did not say 25 MAN roster for reasons that will be clear) of movie baseball players.
Starting Catcher
CRASH DAVIS, DURHAM BULLS and ASHEVILLE TOURISTS
Kevin Costner could be on this list many times. So which one to choose? Field of Dreams? For Love of the Game? Oh please. His performance as Crash Davis is one of the best baseball performances (I believe he could hit), one of the best romantic performances (Oh my indeed) and one of the best comedic performances I have ever seen. Did Costner deserve the Oscar for Dances with Wolves over Martin Scorsese and GoodFellas? Of course not. But he deserved it for Crash Davis, and that isn't bad.
Starting First Baseman
JACK ELLIOTT, NEW YORK YANKEES and CHUNICHI DRAGONS
Jack Elliott couldn't hack it in the United States anymore, so off he went to Japan and found out urinals were different. Look, Mr. Baseball is not a great movie. But I always enjoyed Tom Selleck in comedies and let's face it. He LOOKED like a ballplayer!
Starting Second Baseman
MARLA HOOCH, ROCKFORD PEACHES
On paper, Marla Hooch was not the glamorous beauty that the AAGPBL wanted. But man could she hit. Her dad raised her like a boy as best as he could and her sweet right handed swing gave the Rockford Peaches some pop. Megan Cavanagh is great in the role from A League of their Own. Let's get her some more roles, OK?
Starting Shortstop
BENNY "THE JET" RODRIGUEZ, THE SANDLOT/LOS ANGELES DODGERS
Not only was "The Jet" the only person who saw the potential of Scott Smalls and teaches him how to play, but he winds up being the only player from The Sandlot to make it to the majors. FYI, Mike Vitar who played the young Benny is brothers with Pablo Vitar who played the older Benny.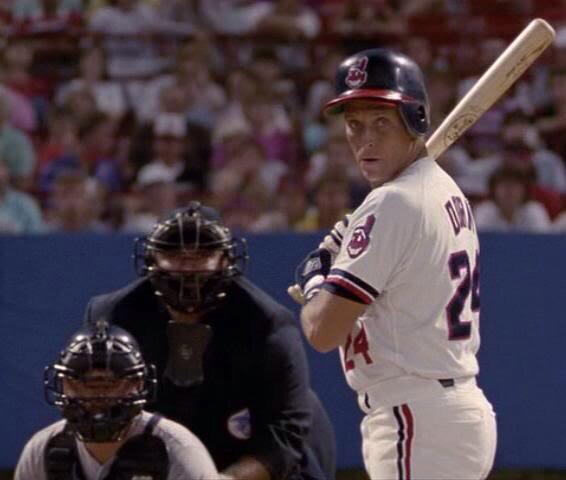 Starting Third Baseman
ROGER DORN, CLEVELAND INDIANS
Is he a Diva? Yeah. Is he a womanizer. Probably. Is he a thinly disguised proxy for Wade Boggs. Maybe. Does he look like Corbin Bernsen? Evidently. Will he cause contract problems? Perhaps but you can just piss on his contract if you don't like it. He provides a quality bat at third and when he wants to can pick it.
Starting Left Fielder
PEDRO CERRANO, CLEVELAND INDIANS
For most, Dennis Haysbert is the president on 24 or the pitchman for All State. To be he will always be Pedro Cerrano, looking for a way to hit the curve ball. Put him on the team and you will see some quality shots. Just don't steal Jobu's rum. Is very bad to steal Jobu's rum.
Starting Center Fielder
BOBBY RAYBURN, SAN FRANCISCO GIANTS
There were two choices for Wesley Snipes on this list, and both were center fielders. Willie Mays Hayes was certainly more likable than the arrogant big free agent signing Bobby Rayburn in The Fan. But Rayburn was a better all around player and frankly I don't want to disrespect Rayburn and get DeNiro's obsessive fan chasing me!
Starting Right Fielder
ROY HOBBS, NEW YORK KNIGHTS
Some would call him a natural. Some sports writers claim he was once a decent pitching prospect too. That left handed swing can hit the cover off the ball and he seems to play even better when there is a lightning storm. He is so good we can even forgive the silliness of seeing Robert Redford pretending he is a teenager at the beginning of the movie.
Starting Designated Hitter
THE WHAMMER, FREE AGENT
When you think of it, we are totally taking sports writer Max Mercy at his word when we hear that The Whammer is the greatest baseball player in the world. We see him hitting the ball hard at a carnival but when he faced actual pitching, he struck out swinging on three pitches. Still, his reputation preceded him and the great Joe Don Baker just happens to look just like Babe Ruth.
Starting Rotation

EBBY CALVIN "NUKE" LaLOOSH, DURHAM BULLS and THE SHOW
Provided he listens to his catcher, breathes out of the correct eye lid, doesn't think and wears garters, there is no stopping Nuke LaLoosh from staying in the show. Tim Robbins later won an Oscar in the dramatic Mystic River. Who are they kidding? That was a retroactive Oscar for one of the best comedic performances of the 1980s.

BINGO LONG, THE BINGO LONG TRAVELLING ALL STARS AND MOTOR KINGS
Bingo Long is great showman who brings out the crowds wherever he pitches. He can taunt the batters by asking the crowd what pitch they want to see him strike out the batters with and somehow get away with it. He has the business savvy to start his own team and just happens to look like Billy Dee Williams in his prime. Nothing wrong with that.

HENRY "AUTHOR" WIGGEN, NEW YORK MAMMOTHS
Sure he sat out the beginning of the season seeking a bigger contract. But Wiggen came back, pitched the Mammoths to the World Series and stayed loyal to his dying catcher, Bruce Pearson. It is tough to hold your own as an actor along side Vincent Gardenia and a young Robert DeNiro. But Michael Moriarty did just that in Bang The Drum Slowly.

AMANDA WHURLIZER, BEARS
The Bears stopped being bad new when coach Morris Buttermaker coaxed Whurlizer onto the pitchers mound. Squashing the "throw like a girl" stigma, she was able to strike out the batters and date the bad boy Kelly Leak as Tatum O'Neal gave her best post Oscar performance.

MEL CLARK, CALIFORNIA ANGELS
The Angels had a little bit of help from real angels in their outfield but let chain smoking and soon to be dead pitcher Mel Clark beat the White Sox and win the Division. This pick is mainly because I was impressed that Tony Danza could play a character NOT named Tony.
Bullpen

RICKY "WILD THING" VAUGHN, CLEVELAND INDIANS
I know he was mainly a starting pitcher, but come on! Who has the best entrance music from the bullpen in the league than "Wild Thing"? Plus you need a slightly unhinged mentality to be a closer. Where Wild Thing ends and Charlie Sheen begins may never be determined.

HENRY ROWENGARTNER, CHICAGO CUBS
The poster child for Tommy John surgery, new ligaments turn Thomas Ian Nicholas' character from a 12 year old little leaguer to the Cubs closer. No doubt he won the Rookie of the Year award, but I can't help but wonder if the Cubs violated child labor laws.

PROFESSOR VERNON K. SIMPSON (a.k.a. KING KELLY), ST. LOUIS (either the CARDINALS or BROWNS)
Cheating is a part of baseball. And short of doing PEDs, no cheater would be more valuable than Professor Simpson, who developed a substance that moves objects away from wood. So naturally he changed his name, signed with St. Louis (not sure which St. Louis team) smeared the substance on the ball and became the pitching sensation Kelly. Oscar winner Ray Milland did his best to sell this plot device of celebrating a lying cheat in It Happens Every Spring. Just make sure the umps don't check his glove.

STEVE NEBRASKA, NEW YORK YANKEES
OK, The Scout is one of the most disappointing baseball movies ever. How you get Albert Brooks coming off of Defending Your Life to write and star in a baseball film directed by Michael Ritchie, who made the original Bad News Bears, and have it be a snooze is beyond me. And Steve Nebraska's pitching and hitting talents were a little too cartoonish. But Brendan Frasier looks great in that uniform and is pretty good in the role. Besides, having a guy throw 110 MPH out of the pen can't hurt.
MONTY BREWSTER, HACKENSACK BULLS
I could have easily put Richard Pryor on this team as Charlie Snow, the right fielder on Bingo Long's Travelling All Stars who tried to pass himself off as either Latin or an Indian Chief. But I went with his ambitious if not quite major league worthy minor league pitcher. If he doesn't make it as a pitcher, he can certainly help bankroll the team.
Reserves
Reserve Catcher
DOTTIE HINSON, ROCKFORD PEACHES
A catcher needs to do more than call pitches. They need to be the leader on the field and in many ways be a second manager. When reluctant Dottie Hinson left Oregon to join the Peaches, she became the defacto manager as Jimmy Dugan was too drunk to care. She could catch a throw with her bare hands, do a split in the game for the cameras, hit with power, give competing signs with her manager AND give you that killer Geena Davis stare? You bet she is on this team!
Reserve Catcher
LEON CARTER, THE BINGO LONG TRAVELING ALL STARS AND MOTOR KINGS
For the additional catcher on the team, I decided NOT to go with Indians Jake Taylor. Let's face it, Jake was just a poor man's Crash Davis who basically stalks Renee Russo. Crash didn't have to stalk anyone. And big swinging Leon Carter could actually homer off of Bingo Long and had the the chops and the voice to stand up to him. James Earl Jones could be on here as the Salinger proxy from Field of Dreams, but I like the Vader/Lando preview that is The Bingo Long Travelling All Stars and Motor Kings.
Reserve Infielder
DORIS MURPHY, ROCKFORD PEACHES
You need pop at third base and you need someone off the bench who is fearless and won't shy away from the big game. That describes Doris to a T. And remember, when League of Their Own came out, nobody knew who Rosie O'Donnell was and EVERYONE knew afterwards.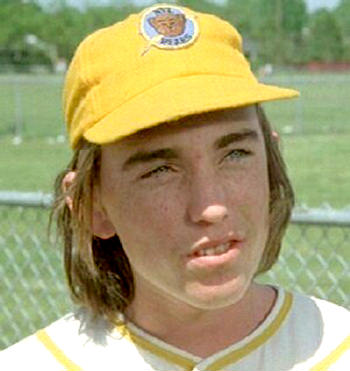 Reserve Outfielder
KELLY LEAK, BEARS
Sure he was a trouble maker, smoking and riding that motor cycle. But from the moment he threw the ball back into the infield, Morris Buttermaker knew he found his outfielder. His defense made up for Lupus and his killer stare (which would grow up to be the Jackie Earle Haley Rorschach look) shows he has no fear. So come on! Let him play!
Pinch Hitter
STAN ROSS, MILWAUKEE BREWERS
A pinch hitter needs to have one thing on his mind: Get a hit at any cost. Who was more single minded about collecting hits more than Mr. 3000 himself, Stan Ross? Again, not a great movie. But like Tom Selleck in Mr. Baseball, the late great Bernie Mac just looked like a player!
Utility Player
BUGS BUNNY, TEA TOTALLERS
With two catchers on the bench and Ross as a pinch hitter only, we need a player who can take over multiple positions. Who is more versatile than Bugs? "First base  Bugs Bunny, second base Bugs Bunny, shortstop Bugs Bunny…"
Manager
DUTCH SCHNELL, NEW YORK MAMMOTHS
The single hardest call to make. Wilford Brimley's Pops taking the helm of the New York Knights seemed like a natural. (Pun TOTALLY intended.) Also there is James Gammon as Indians manager Lou Brown (give him the heater) or Walter Matthau as Morris Buttermaker drinking his way with the Bears or Tom Hanks as Jimmy Dugan telling everyone there is no crying in baseball. Trey Wilson's Skip of the Durham Bulls and his lolly gagger speech is amazing. But I am giving it to Dutch, the manager of the Mammoths dealing with big time egos, a crushing pennant race and realizing the player he picks on the most is dying.
Watch this scene HERE to see Vincent Gardenia earn his Oscar nomination, blending humor, passion and a few tears in the locker room scene of Bang the Drum Slowly.
Bench Coach
RED BLOW, NEW YORK KNIGHTS
The calm voice of reason next to passionate and thinking about farming Pops Fisher, Red saw the potential of Roy Hobbs and kept the team in line without raising his voice. Plus the late Richard Farnsworth just made everything better.
Pitching Coach
LARRY, DURHAM BULLS
Robert Wuhl's finest hour. A solid pitching coach and smart enough to know that wearing garters and breathing out of his eye lids can help Nuke LaLoosh, then so be it. His visit to the mound and solution to the wedding gift problem is one of the great baseball scenes of all time.

Scout
ERNIE CAPADINO, AAGPBL
Ernie did not have a lot of data to work with when he traveled the country looking for women baseball players. But give the man credit, he got a reluctant Dottine Hinson to sign, saw the value in her sister, Kit Keller and picked muscle over beauty when recruiting Marla Hooch. That is a HUGE haul for one scout. And besides, Jon Lovitz stole every scene from A League of their Own that he was in, unlike Albert Brooks in the disappointing film The Scout.
Super Fan
ANNIE SAVOY, DURHAM BULLS
 Yeah Ray Kinsella built a baseball field for ghosts. Sure Jimmy Fallon's character was obsessive in Fever Pitch. Of course Iris stood up and had the halo around her to inspire Roy Hobbs. Who better scouted the players, knew their strengths and weaknesses on the field or in bed better than Annie Savoy? Like Costner and Robbins, Susan Sarandon should have won an Oscar for THIS! I am glad she got one later but she will always be Annie to me.
So there you have it. A full team, coaching staff, scout and fan. None of them are real, but all of them are all stars.